SERVER HAS NOW BEEN CLOSED, Online and thus the Platinum are now considered Unobtainable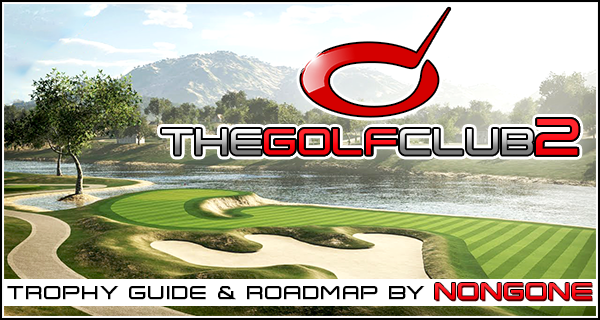 Awesome banner art provided by
ixii
with thanks!
If you have any questions or comments, please visit the discussion thread
Overview:
Estimated trophy difficulty: 4/10 (Platinum Difficulty Poll)
Offline trophies: 22 (10, 5, 7, 1)
Online trophies: Technically only 4:  Team Player , Golf Buddy , I'll Take That… , and Participation Medal .  However, you should use the user-generated courses whenever possible to make almost every other trophy much easier.

SERVER HAS NOW BEEN CLOSED, Online and thus the Platinum are now considered Unobtainable

Approximate amount of time to platinum: 50 hours with multiple accounts, 300+ without (Estimated Time to Platinum)
Minimum number of playthroughs: 1
Number of missable trophies: 0
Glitched trophies: 0
Does difficulty affect trophies?: 1 round must be completed with Tour Clubs, 1 season of career mode must be completed on hard difficulty.
Introduction: 
Welcome to The Golf Club 2, the second in HB Studios' Golf Club series. Of the three (Golf Club 1, 2 and 2019), this is by far the least played version. The biggest reason for this was the Millionaire trophy, which required somewhere around 1,000 hours of game play. I've worked this down to about 35 hours solo, less with a partner, so this game should be doable in a reasonable time now. The other problem was that there is very little information available, so I've attempted to combine everything into one place and write a comprehensive trophy guide. This is my first guide, so thanks for reading and I hope it helps!
Disclaimer - 
Because most of this walkthrough involves user generated courses, there are some things like challenges, handicap scores and AI behavior that are constantly changing. While I will do my best to keep this guide up to date, beware and be advised that even if you do exactly the same thing I've done in the guide, you may get slightly different results.
Walkthrough:
Believe it or not, you can platinum this game and only play 1 actual round of golf! I know that sounds crazy, but there are user generated courses that are made for just about every trophy, and most of them only require you to to make 5 inch putts for every hole.
STEP ONE: SET YOUR HANDICAP SCORE
At the moment, playing "Nine Holes in One" 5 times will give you a handicap of +11.4. I suggest you do this before playing any other courses, as playing any handicap rated courses (there's a little "HCP" icon in the top right of the course thumbnail) will affect your handicap. This should get you:
Scratch Golfer
Plus Ten
 STEP TWO: MILLIONAIRE
The next thing you want to do is sort out your plans for the Millionaire trophy.  If you try to do this solo without using alternate accounts, you're in for a long battle. Each round will give you something like $50-100 for completing it, depending on the difficulty. Each course has 0-15 challenges which are worth $50-$150 each, but they are not repeatable. So, you can get about $1,500 per course if you complete all the challenges, but you can only do each course once, meaning you'll need to find and play about 700 courses. Yikes!
Fortunately, I've combined hints from other parts of the internet and worked out a method using alts to get this by yourself in 35 hours or so. The video guide is
here
, or check the Millionaire description.
This might get you a few trophies, but for sure you'll have:
Millionaire
 STEP THREE: CAREER MODE
Once you have the million, you can spend some money to level up your offline society. Level it all the way up to 10 then set up a 10 event season on Hard difficulty. I was able to search for "250" and found 3 single hole courses that had over 1,500 plays. If you cycle these three for your season, you should be able to win every event and ultimately the season. DISCLAIMER - This is one of the modules that can get weird sometimes, as the AI doesn't stop at 1 stroke per hole. They can score zero or even negative strokes on a hole and finish a 9 hole course in 7 shots! If you start getting this behavior, set up another season and try it with a different course. If successful, this will net you:
Inaugural Season
Career Pro
Career Veteran
Season Champion
Event Champion
 

STEP FOUR: CLEANUP
Some of these you may get along the way, but all of them are pretty straighforward with the right setup.  I've put the rest of the trophies into groups:
Ferret
Golden Ferret
Ace
Tour Par
These have to be done on offical courses, I used Little Brook Manor for the Ace and Tour Par, and Faxon Park for the Ferrets.  
I'll Take That…
Golf Buddy
Team Player
Participation Medal
These are done in the online societies and involve friends (or alts).
Bucket o' Balls
Chipping Connoisseur
Putt-Putt… and Putt, and Putt…
You Have Selected "No."
These are in the different areas of the training module, and the rest:
Amateur Golfer
Playing Favorites
Super Ace
Dressed to the Nines
Back of My Hand
Challenge Hunter
These can be set up and worked on individually.  Once that's all complete, you'll get:
Club VIP
 !
If you'd prefer a video guide, I did a speed plat of this recently and aside from slight differences in order, this can totally be used for a regular run.
Millionaire Prep
Other Prep
All Trophies