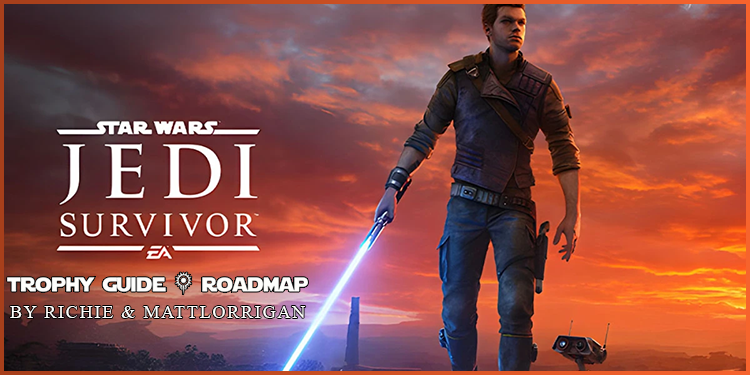 Banner by
Ryukori
If you have any questions or comments, please visit the discussion thread
Overview:
Estimated trophy difficulty: 4/10 (Platinum Difficulty Poll)
Offline trophies: 54 (44, 7, 2, 1)
Online trophies: 0
Approximate amount of time to platinum: 40 hours (Estimated Time to Platinum)
Minimum number of playthroughs: 1
Number of missable trophies: 1
Glitched trophies: 0
Does difficulty affect trophies?: No
Introduction:
Star Wars Jedi: Survivor is the sequel to Respawn's 2019 hit, Star Wars Jedi: Fallen Order, and it improves upon almost everything that made the original game so good. Improved platforming, wider worlds to explore, more combat options, and some of the best character arcs in the current Star Wars canon. Outside of some hefty performance issues at launch, it's really hard to fault Respawn's latest effort.
The only problem with this increase in scope, is it does make trophy hunting just that little bit more time-consuming. Luckily, Star Wars Jedi: Survivor's trophy list is a very fun one to work your way through, and we've got the guide to help you do that.
Walkthrough:
There's two things to note about the Star Wars Jedi: Survivor trophy list - pretty much everything can be done in a single playthrough, and you can revisit every area after you roll credits. This makes the process of getting the platinum trophy a much less strenuous experience than many other games, as you can take your time with it, enjoy yourself, find as many of the secrets as you like, and then you're able to mop up whatever it is you've missed after the fact. This is especially important since Star Wars Jedi: Survivor 
Still, there are a few things you'll want to make sure you make a start on throughout the main campaign, so you're not having to grind towards the end.
There is one potentially missable trophy,
You've Got A Friend
, which requires you to tell your companions Merrin and Bode to attack ten enemies each during their respective sections of the game. This is done by holding R1 and pressing Square, and while it's a very easy trophy to get, it's also easy to miss, if you do end up forgetting about it.
Outside of this, you'll also want to concentrate on the many combat-related trophies, such as
Han Slowlo
,
Riposte
, and
One With the Force
, allowing yourself time to build these up naturally, rather than having to grind them out at the end, but it's not a dealbreaker if you don't.
You're going to have to leave a lot of these trophies for the post-game anyway, as several will require you to use all of your traversal abilities, many of which aren't unlocked until near the end of the campaign, in true metroidvania style. Once you've rolled credits, you can head back out into the galaxy to obtain the following trophies, as well as any others you've missed.
I'm a Living Legend
Star Tours
Perk of the Job
Growth Spurt
Gambler
Intergalactic Geographic
Blood, Sweat, and Tears
Splurgle
Skoova Diving
Caij Match