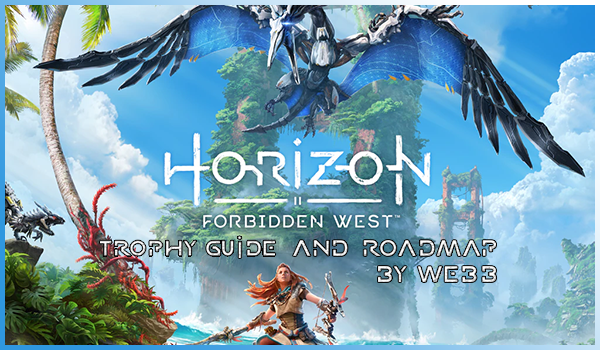 Banner by Ryukori
 
Overview:
Introduction:
Guerrilla Games have been toiling away on Horizon Forbidden West for quite some time now, and considering how well-received the original was, they had their work cut out for them. Thankfully, they absolutely smashed it! And not only that, but they created a trophy list that is incredibly enjoyable. No crazy "COLLECT EVERYTHING!" trophy, just loads that make you sample the world's delights. If you want to do more after that, feel free to… and honestly, it's hard not to. Horizon Forbidden Wilds is a deceptive game, with a deceptive trophy list. It might seem simple but rather than toiling away to find the answers yourself, we've prepared an in-depth trophy guide but not only that, we've also included some guides on to where to find the best weapons and armour that you can get in the guide.
How to Play:
Naturally, the best way to play Horizon Forbidden West is organically, consulting the guide when you need some more specific assistance, like how to beat the Arena or tips for the Hunting Grounds. The
only
thing you need to be aware of is the 
All Machine Types Scanned
trophy, because it is possibly missable. It basically revolves around scanning a few enemy types that only crop up during story missions and don't appear in the open-world. There's only 3 but all it takes is missing 1 to ruin 50 hours of game time - well, it wouldn't ruin it but it is annoying. I am speaking from experience here! Anyway, enjoy it, play the story, scan those 3 story machines, then sweep up everything at the end.  There's a good chance you'll get a load of them naturally but there's also a good chance that you might be stumped - heck or just want to cut down on a lot of the wasted searching in the Forbidden West. Credit to ixii for some of the info in this Guide.
Walkthrough:
Approaching open-world games is a tricky one to do these kind of intros for so instead of doing an order, what I'll do is break the trophies up into categories as that's the way to tackle it best IMO.
Story:Reached the Daunt 
Secured Passage to the Embassy 
Attended the Embassy 
Established the Base 
Recovered AETHER 
Recovered POSEIDON 
Recovered DEMETER 
Recovered Beta 
Discovered Faro's Fate 
Flew on the Wings of the Ten 
Discovered Nemesis 
 Combat:All Acquisition Machines Killed 
All Recon Machines Killed 
All Combat Machines Killed 
All Transport Machines Killed 
Used all Elemental States 
Performed 3 Melee Combos 
Stealth Killed 10 Machines 
Tore off 100 Components 
Picked up 5 Heavy Weapons 
 Levelling Up:Reached Level 20 
Reached Level 30 
Reached Level 50 
Fully Upgraded a Valor Surge 
Upgraded 3 Outfits 
Upgraded 3 Weapons 
Upgraded Every Pouch Type 
Enhanced Weapon with Coils 
Unlocked 3 Weapon Techniques 
Skill Tree Learned 
 Side Missions:Chose a Desert Commander 
Saved the Daunt 
Aided Kotallo 
Healed the Land-gods 
Recovered Alva's Data 
Defeated the Enduring 
Open-World Activities (& Collectibles):
First Tallneck Overridden 
All Tallnecks Overridden 
First Rebel Camp Completed 
Defeated Asera 
First Core Overridden 
All Cores Overridden 
Obtained 3 Stripes at a Hunting Ground 
Obtained 3 Stripes at All Hunting Grounds 
Won 2 Gauntlet Runs 
Completed a Set of Salvage Contracts 
Completed 4 Rebel Outposts 
Completed 3 Relic Ruins 
Recovered 5 Different Collectables 
Miscellaneous:
Rode All Regular Mounts 
All Machine Types Scanned 
Completed a Long Glide 
Completed 2 Flying Mount Quests 
Completed Arena Challenge Set 
Defeated Machine Strike Challengers 
Obtained All Weapon Classes 
10 Types of Machine Overridden 
Used Dye Flowers 
...and once you've done all that, the mighty Platinum is yours:
All Trophies Obtained
On top of the Trophy Guide, I have also prepared a handy list of walkthroughs for you to check out:
Weapons & Outfits Guides:
Where can I find the best outfits/armor?
Where can I find the best weapons?
Where can I find the new Spike Thrower?
Where can I find the new Shredder Gauntlet?
Location Guides:
Animal Locations & Pouch Upgrade Guide
Vista Point Locations Guide
Cauldrons Locations & Overrides List
Salvage Camp Locations & Contracts List
Tallneck Locations Guide
General Guides:
Machine Resources Farming Guide
Where can I find Greenshine and what can I do with it?
Where can I equip face paint?
How do I dye my outfits and where do I find new dye patterns?
How do I swim for longer?
How do I destroy Blocked Paths?
Where do you spend Processed Metal Blocks?
What can you do with the Pristine Skulls?
Where can I find Luminous Brainstems?
Misc Mission Guides:
How do I save the miners in Deep Trouble?
Where is Ferrika's Armor in First to Fly?
How do I access the unknown settlement in the Daunt?
What do I get for collecting all the Signal Lenses?
How many main quests are there? How long does it take to finish the campaign?
DLC: New Game Plus
Overview:
Estimated trophy difficulty: 4/10
Offline trophies: 3 (3, 0, 0, 0)
Online trophies: 0
Approximate amount of time to platinum: 10-20 Hours
Minimum number of playthroughs: 1 + some activities and/or a second playthrough
Number of missable trophies: none
Glitched trophies: none
Does difficulty affect trophies?: Yes, you must play the game in Ultra Hard difficult
Introduction:
Like the first game, Forbidden West received a free DLC featuring New Game+ and a new difficult option: Ultra Hard. Also, Guerrilla decided to add some extra equipment that you can only get during New Game+. For the 100% of this DLC, you need to complete one run on New Game+, finish the game on Ultra hard and gett all those new equipment. 
This guide will be written for peoples that completed the main game with any other difficulty option. If you already completed the first run on Ultra Hard, feel free to play the second playthrough on the lesser difficulty. 
If you haven't played (like almost everyone) the first playthrough on Ultra Hard, then you can get two birds with one stone and play New Game+ in Ultra hard. Unfortunately, one playthrough will not be enough because of the new equipment. 
See the walkthrough and
Otained all New Game+ Rewards
for more info.
Walkthrough:
Step 1: Play the game on New Game+ on Ultra Hard 
Once you're done on your first playthrough, go to the Base and reach the "New Game+" spot. Start the game and select Ultra Hard difficulty. Feel free to skip the tutorial part. 
On New Game+, you will carry over all the levels, abilities, weapons, resource and everything else you got on your first run. The only things that will not carry over are most of the Overrides. You will need to visit the cauldrons again for them, but you will not need them in order to get the 100%.
Ultra hard difficulty is not that hard if played on New Game+. Enemies hit harder and have more health on this setting but the worst thing is that you can't see their health bar. This is not so bad, however, as you are strong enough to face them. Play the main missions only, skip all the cutscenes and dialogue and reach the end of the game to get the first two trophies.
At the end of this step, you will get
 Completed New Game+

 Completed Ultra Hard
Step 2: Farming Champion's Tokens
This is where things gets worse. As i said in the introduction, New Game+ has new equipment that can be bought. There are:
8 Legendary weapons
4 Dyes
5 Face paints
The bad thing of this new feature, is that to buy them, you need something called Champion's Tokens. You can get Champion's tokens by completing main missions, secondary missions and many other activities. You need a total of 125 Tokens, meaning that you will find yourself playing all the activities a second time if you already did them during your first playthrough. There are three ways to face this trophy:
Playing main game over and over on lesser difficulty: each run on new game+, will grant you 30 Tokens. You need 4 playthrough to get all the items you need.
Finish the second playthrough and do some extra activities to farm all the tokens you need.
Mix both of the methods by playing easy and short secondary activities and start a new playthrough when you're almost done with the tokens.
IMO, the third way is the fastest, as you can chose the easiest missions and activities and then once you have only the longest and hardest activities remaining, restart the game for the last tokens you need. 
Also, to speed up the process you can use the Sunwing to cut times and skip unnecessary fights and climbing sections.
At the end of this step, you will get
Otained all New Game+ Rewards