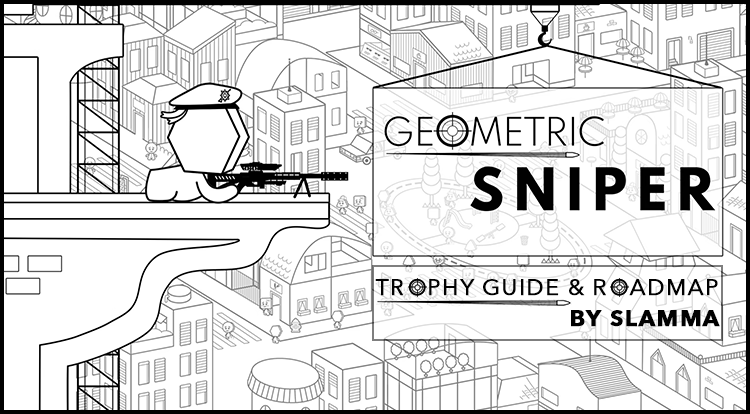 Banner by
Ryukori
If you have any questions or comments, please visit the discussion thread
OVERVIEW
Estimated trophy difficulty: 3/10 (Platinum Difficulty Poll)
Offline trophies: 35 (17, 13, 4, 1)
Online trophies: 0
Approximate amount of time to platinum: 3-5 hours (Estimated Time to Platinum)
Minimum number of playthroughs: 3 - one of each mode
Number of missable trophies: 0
Glitched trophies: None
Does difficulty affect trophies?: N/A
INTRODUCTION
In Geometric Sniper, you play a sniper, eliminating targets across 12 missions. There is an 'Elite' version of each mission that removes your zoom and 'hold breath' ability. There is also a 'Find' mode which has you searching out different objects over 12 levels.
Some levels will require patience as the targets don't show for some time and some will require precision as the targets can be moving. The missions are not too difficult. I feel the hardest part is 'Find' since you need to find a number of objects with limited bullets in a time frame.
A good thing to note is that when holding your breath, you are able to slightly move your sights to line up your shot. Use this as you do have limited shots to take before you fail a level.
WALKTHROUGHStep 1: Complete the Adventure mode
You should complete all 12 Adventure mode missions first. See the relative trophies below for tips.
By the end of this step you should have earned the following trophies:
History Started
Thoughts
Questions
Doubts
Heroes?
Searching for answers
Adventure Complete
Step 2: Complete the Elite missions
Elite Mode is unlocked after you complete the Adventure mode. This is the same set of missions with the same requirements, so it is good to complete these while you have the levels fresh in your mind. As mentioned, you will not be able to zoom in or hold your breath for these missions. If you did not complete the "different" kill trophies in Step 1, now is your chance!
By the end of this step you should have earned the following trophies:
1st Mission elite
2nd Mission elite
3rd Mission elite
4th Mission elite
5th Mission elite
6th Mission elite
7th Mission elite
8th Mission elite
9th Mission elite
10th Mission elite
11th Mission elite
1st Different death
2nd Different death
3rd Different death
Step 3: Complete the Find missions
Now that you've honed your sniping skills, take on the challenge of Find Mode. Go through 12 levels to find different objects with a shot and time limit. Since objects are smaller than the character targets you're used to, you will want to make sure you are precise with each shot so you do not fail.
By the end of this step you should have earned the following trophies:
1st Mission find
2nd Mission find
3rd Mission find
4th Mission find
5th Mission find
6th Mission find
7th Mission find
8th Mission find
9th Mission find
10th Mission find
11th Mission find
Sniper Master