Graphics by
ixii
.
If you have any questions or comments, please visit the discussion thread
Estimated trophy difficulty: 3/10 (Platinum Difficulty Rating)
Offline trophies: 53 (42, 8, 2, 1)
Online trophies: 0
Approximate amount of time to Platinum: 25-30 hours. (Estimated Time to Platinum)
Minimum number of playthroughs: 1.
Number of missable trophies: ALL non-story-related trophies are missable.
Glitched trophies: None.
Does difficulty affect trophies?: No.
Welcome back to Ximending, Taiwan, and rejoin a much more experienced Yumo and her cadre of Kunlunian God companions. 
Dusk Diver 2
 picks up not long after the first game; developed by WANIN and published by Idea Factory and Justdan International, they've done a wonderful job at improving and adding so much more gameplay and combat depth, while keeping the same overall feel and vibe that made the first 
Dusk Diver
 so beloved. The story is initially quite similar; young, powerful Yumo uses her powers and companions to protect Ximending's residents by dispatching any Chaos Beasts that threaten the human realm, while dealing with the consequences of the worlds attempted merge in the previous game. However, that soon changes, and you find yourself up against some of the most powerful enemies and groups across every dimension.
While the sequel kept most of the original locations, bringing us back to the same map of Ximending (including the Tumaz Mart, the restaurants, and so on), there's a 
lot
 more to see now in many new locations. They've
greatly
expanded the Human Realm and Youshanding, and even brought us to Kunlun for the first time! You'll also be introduced to a host of new characters and you'll get to learn much more about Kunlun politics, other dimensions, and much more, as well as their part in this mess.
It cannot be stressed enough just
how much more
was added to this game in terms of gameplay mechanics, combat, locations, and even just overall story depth. Despite that, familiarity with the first will definitely give you an edge, as it serves as the core of the expanded mechanics.
It's truly a great game, and if you liked the first, you'll certainly love this one as well.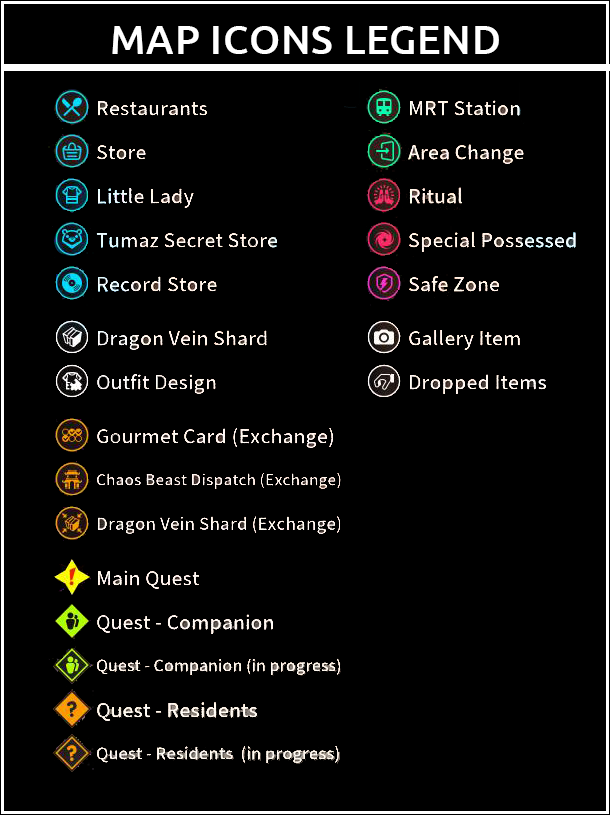 Human Realm Controls
: 
: Switch party members
 (Press): Dash (
Note
:
Does not cost anything, but cannot regen SP while dashing.
)
: Map (
Current location only
)
Options
: Main Menu
Youshanding (Battle) Controls
:
: Light Attack
: Heavy Attack
: Signature Skill
: Jump
 (Hold): View Special Skills
 (Hold): View Items & Guardian Support Skill Options
 + 
 / 
 / 
: Use set SP Skill
 + 
: Use Burst
 + 
 / 
 / 
: Use set Guardian Support Skill
 + 
: Perform Break Strike
 + 
: Use item
: Lock-on
: Dodge
: Switch party members
: Switch Guardian tactics (
AKA switching party members between Aggressive and Standby modes
)
 (Press): Dash
 (Press): Reset Camera
: Map (
Current location only
)
Options
: Main Menu
NOTE
: See the Platinum Trophy (
Professional Dusk Diver
) for some
General Tips
and
Combat Tips 
for your game!
There is a 
lot
 more to do this time around, and story progression is the main driving force that unlocks all of the other side things. In addition, this time, there is no post-game free roam and no Chapter select, so pretty much 
every
 non-main quest trophy is missable. For the most part, each Chapter unlocks 
something
. Firstly, you've got the basics that unlock at the start of every Chapter; in other words, you'll notice that every time you begin a new chapter, you'll get notifications that inform you of increases to the max 
Weapon Ranks
, 
Orb Synthesis
 recipes, and/or 
Tumaz Mart
 item lists. Of those three, only the first changes 
every
 single Chapter; your max Weapon Rank is identical to your Chapter Number (e.g. in 
Chapter 10
, you can upgrade your weapons to 
Rank 10
). In addition to those, new 
side quests
 often unlock at the start of each Chapter or after major story developments, so make sure you 
check the map often
. That includes 
all
 Human Realm maps, not just 
Ximending
 (i.e. including 
Dadaocheng
, 
Climax 508
, and 
SCCP
).
In general, unlocks are staggered in this game. There are several different kinds of collectibles this time, and they don't all unlock all at once. While the 
treasure chests
 (
The Best Loot
) appear from start to finish and don't need to be unlocked, 
Dragon Vein Shards
 (
More Precious Than Diamonds
) don't appear until they are unlocked in 
Chapter 4
, and same goes for 
Yawen's Outfit Design Pages
 (
Fashionista
), which are unlocked in 
Chapter 5
. 
Free exploration
 to find said collectibles also opens up at the same time.
In general, you will end up returning to (almost) every location 
at least once 
as part of doing the side quests. However, that doesn't mean you should always 
wait
 for a quest to take you back to a certain location. When you can, with free exploration unlocked, you should take the time to revisit old areas and clean up collectibles.
For the most part though, to cut-down on any clean up time required later on, there are two main things you should keep in mind as you play; firstly, the food items and 
Gourmet Cards
 for 
Foodie
; and secondly, the cash requirements for 
The First Million
and 
Fashionista
.
1. Keep track of your Gourmet Cards & always carry AT LEAST 2 of every food item in the game
(
Foodie
)
The food items are a unique mix of collectible and mechanic. Food buffs are an integral part of Dusk Diver's combat, but you've also got a trophy that makes things a little bit more complicated. Starting from 
Chapter 1
, you'll be given "
Gourmet Cards
". These act as stamp cards that essentially force you to try every single meal in the game 
once
.
When you're given a card, it has 10 food items that you must eat to get a stamp. To see the required food items, go to 
Menu
 > 
Quest
 > tab over to 
Collection Quests
. Once you've got all 10, you can hand it in to May and get a new one! However, these are 
not
 cumulative; whether or not you've previously eaten that specific food item doesn't matter.
Each card has 
10
 food items you have to eat, after which you can turn it in for a new card. Thankfully, most food items can be bought as "
take-out
" and held in your inventory to eat later, except for 5 
must
 eat-IN restaurants. For the Platinum, you'll have to complete 
10
 of these Cards (
Foodie
), so it is highly, 
highly
 recommended that you make stops at every vendor and buy 
at least 2 of each and every food item in the game
 as you pass them, and always replenish any non-card-related meals. Because they don't count if you ate them prior to getting that card, you're obviously going to find yourself constantly running back and forth with every new card, trying to find and eat all of the required items. Plus, don't forget, you have a "hunger" bar and have a maximum amount of food you can eat at once. This depends on your number of party members; if you have all 5 party members with you, you'll have a max of 5 bars. If you only have Yumo, then you'll have a max of 1 bar.
If you are prepared beforehand and have the majority of the items on you, it will make everything 
so
 much easier and will drastically cut down on the amount of time required. It will also hopefully prevent the need to grind later on.
2. Save your materials & money until you've found all of the Outfit Designs:
To save yourself some time later on, save up the majority of your 
materials
 and money as you play. Only sell/spend what you need to purchase food (and maybe a couple outfits you 
really 
want). That way, once you've collected all of the 
Outfit Design
 pages and have completed the necessary quests (probably around
Chapter 11
), you can make a save, sell everything in one go to reach $1 million (
The First Million
), use that money to buy all of the 
Outfits
 (
Fashionista
), and once you've got both trophies in hand, reload the save. Now you can sell as much of the materials as you want and do whatever you want with the money. Otherwise, you may find yourself needing to grind for materials to reach the 1 million dollar mark, as it's not a cumulative trophy; you have to have that much 
at once
 to get the trophy.
Step 1: Play the game until Chapter 11 & complete all Side Quests as they unlock.
For the most part, everything is rather straight forward. It's a linear game story-wise, but there is still a lot to do on the side. There are 60 side quests in total, and several of them are missable. Unfortunately, you're never told 
which
 ones that is, so your best bet is to always complete them as they appear. Remember, side quests 
also
 appear in the other Human Realm areas (i.e. Dadaocheng, Climax 508, and SCCP), 
not
 just Ximending. At the beginning of every Chapter and after every major story development, make sure you always check the Map for 
each
 area to see if any new side quests have appeared. You should also take advantage of free exploration once it unlocks to return to each area and grab the collectibles.
Other than that, again, the only other things to really keep in mind as you play are the two main points specified above regarding Food and Gourmet Cards, and money and Outfits.
Aside from the missable side quests, nothing else is missable 
until Chapter 11
.
By the end of this step, you will have earned:
Get Your Basics Straight!
Diligent Training
Good Samaritan
Today You, Tomorrow Me
Friendly Neighborhood Diver
Rookie Training
Daily Life
Overture
Welcome to this Crazy City
Indicator
Back to the Backyard
Masquerade Party
Teenagers' Blues
Inquiry for Truth
Salvage, Sally
Elysium
The Evil Within
Welcome to the Tumaz Secret Store!
Orb Roulette
Eat Your Heart Out
Window of Opportunity
Offense Is the Greatest Defense
Concentrated Fire
You Let Your Guard Down!
Transformation Sequence
Show Me Your Moves!
Changing It Up
For Adults and Children
Top Real Estate
Creator's Market?
Sunset at the Pier
Treasure Hunter
The Best Loot
Step 2: Stop in Chapter 11 to clean-up any remaining collectibles, side quests, & trophies.
Once you're a little ways into 
Chapter 11
, after the red fissures spawn outdoors (see
Dimensional Fissure Master
) and you defeat that Chapter's boss, you will have unlocked every location, weapon rank (see
Ultimate Craftsman
), collectible type, and much more. At this point, you will have unlocked and have access to pretty much everything in the game. As there is no post-game free roam, 
this
 is the time to clean up any remaining trophies you have, especially any collectible-related ones.
IMPORTANT:
 Make sure you 
make a save here
 to keep on the side before moving on to the next step. If you missed anything and don't have a save to return to, you'll have to start all over again.
If you have not already done so, visit each area in 
Youshanding
 to collect all remaining collectibles (
Shards
 & 
Outfits
). Since every location is now available to you, you might have some left over in places that previously had closed-off sections, such as 
Civic Boulevard
. Another ones you might be missing are the ones found in 
The Mazes (AKA The Traps) 
found in both the 
SCCP Underground Passage
 and 
Beimen Passage
.
You will likely have to grind out a couple 
Gourmet Cards
, and, depending on your playstyle, you might have a couple combat counter-related trophies left to do, such as completing 
50 Counterattacks
. The easiest way to get those is to use the many Possessed scattered all around Ximending, as they will continue to respawn no matter what, and they're usually quite easy. They often come with a wave of smaller enemies which are really easy to get 
Counterattacks
 and 
Just Dodges
 on. Because you have a limit of how much food you can eat at once, you can combine these two trophies, using the Possessed to quickly reduce your hunger bars to be able to eat more food again.
Additionally, if you have yet to earn 
Tough Opponents
 (reach a combined level of 300), now is the time to grind that out. Just like the others above, the easiest way to do this, assuming you've completed all of the quests, is by grinding Possessed encounters. Alternatively, if that gets a little boring, you can head out to a place like 
Civic Boulevard
, which has 
loads
 of encounters, large waves, and several large elite beasts. Hopefully you should be quite close to it though, assuming you leveled up your party as well rather than focusing 
solely
 on Yumo.
By the end of this step, you should have:
By the end of this step, you will have earned:
Tough Opponents
A Little Too Heavy...
TV Taught Me How to Fight
Explosions Are Power!
Rock Never Dies
Walking Bombshell
Starfall Slash!
Youshanding's Jack of All Trades
Dimensional Fissure Master
Top Craftsman
Ultimate Craftsman
This Is...?!
The First Million
Foodie
Fashionista
More Precious Than Diamonds
Step 3: Defeat the final boss & complete the game!
As pretty much 
everything
 is missable, it's 
STRONGLY
 recommended that you keep at least 1 save during 
Chapter 11
 on the side, because of the lack of free roam.
Once you've finished gathering all collectibles and completing all of the side quests and activities, complete 
Chapter 11
 by resting via the Lounge Door, and continue and finish the main story with 
Chapter 12
. When that's done, if you've successfully finished everything else and have collected all of the necessary gallery items, you'll get the Platinum once the game's over. Congratulations!
If you're still missing anything, you're much better off returning to that save made in 
Chapter 11
 to figure it out from there, otherwise you'll need to start all over with 
New Game+
.
By the end of this step, you will have earned:
Yes, We're Villains
Never Give Up
Perfectionist
Professional Dusk Diver
Step 4: Return to Chapter 11 Save to Clean up anything missed (Optional)
If for whatever reason you 
still 
missed something, hopefully you kept your save in Chapter 11, so that you can now return to it to grab whatever you missed, such as not having enough counterattacks, or not finishing all 10 Gourmet Cards,
or
 if you completed the game and somehow did not get the 
Perfectionist
 trophy for finding all Illustrations.
Step 5: Play New Game+ (Optional)
If you feel like continuing, once you've completed the game for the first time, you'll unlock 
New Game+
. You'll also get a few new party members (
surprise
!) at the very beginning in Bette, Raven, and Vandak, so there 
is
 some replayability value here.
NOTE
: New Game+ is 
not at all
 required for the Platinum. Every single trophy is meant to be completed in your first playthrough. While there are a few trophies that you 
can
 complete in NG+, it shouldn't be necessary. You might need to grind a few things in 
Chapter 11
 before finishing the game (see
Step 4
), but it's much better to do so in Chapter 11, because a lot of things 
do not
 carry over to NG+. For example, all 
Side Quests are reset
. It's 
unconfirmed
 whether combat counters (such as the number of 
Counterattacks
, 
Just Dodges
, 
Bursts
, etc. performed) carry over or not.