Estimated Trophy Difficulty: ??/10 (estimated 5/10)
Offline: 30 (12
, 11
, 6
, 1
)
Online: 0
Approximate amount of time to 100%: 300 hours (100-125 with strategic saves)
Number of playthroughs needed: 149 (unless you use strategic saves)
Missable trophies: None
Glitched trophies: None
Does difficulty affect trophies?: There are no difficulty levels for this game.
Do cheats block trophies?: There are no cheats for this game.

Introduction:

Welcome to AKB 1/149: Love Election for PSP and PSVita! This is possibly the ultimate dating simulation, as you get to date 149 girls and narrow it down to one at the end of your playthrough.

If you don't know who AKB are, for the past seven years, they have grown in popularity in Japan and around the world as a teen/early twenties idol group, and sing what is mostly categorized as bubblegum pop. They are idols you can meet; they perform regularly at their intimate stage in Akihabara, and you can talk with them at handshake events throughout the year.

AKB is short for "Akihabara," the world-famous electric town where you can find a countless amount of computer and electronic goods, as well as tons of retro gaming stores. They have also developed the additional groups SKE48 (Sakae, a famous shopping area of Nagoya), NMB48 (Namba in Osaka) and HKT48 (Hakata, in Kyuushuu.)


Road Map:

To get all the "Confessions of a Goddess," you're going to have to date every girl, and date them a lot. You only have to go on the final date with each girl to unlock the trophies. You don't have to get 100% of the photo gallery, e-mail gallery or video gallery for each girl; you don't have to remember their birthday, watch both endings or break up with them.

It is best to keep a written record of all the members of each team so you can look at it at the same time you're playing the game. Mark who you have dated (for the bronze trophies, though this is not really necessary as to go on the final date you have to date them once anyway), and who you have been on the final date with.

After you click on the telephone icon, it will send you to a phone book screen that looks like this: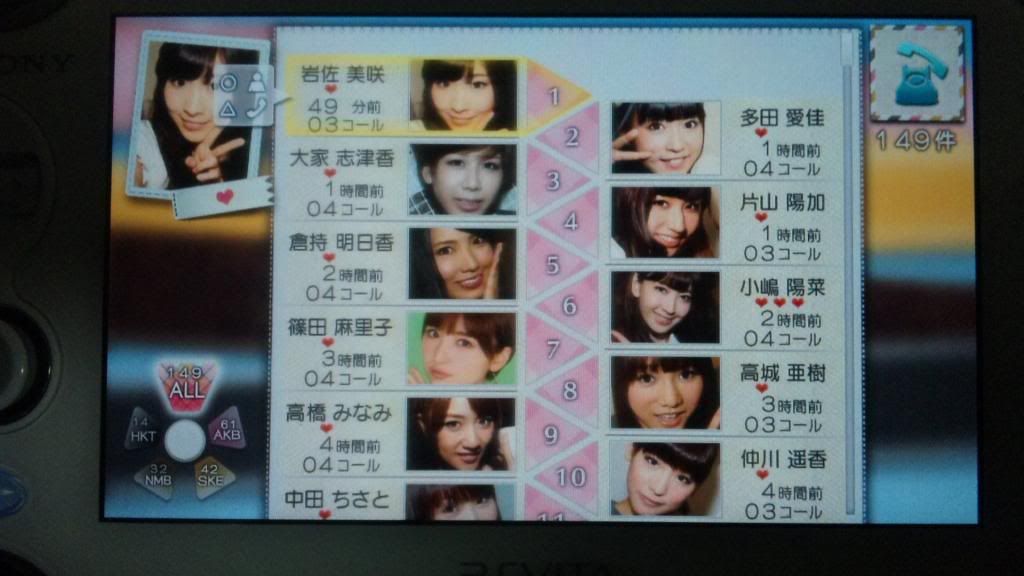 On the first day, the girls are listed in Japanese alphabetical order by team. You can view all 149 members, or simplify by using the analog stick to choose the team you are targeting.

Since you can only date one member at a time and they do not usually appear on consecutive days, choose about five or six girls to take to the end of your playthrough. Do your best to remember their names, although if they like you enough, their nickname will appear instead of their Kanji. It takes about five or six dates anyway (sometimes up to eight) for your "target girl" to reappear on the list.

Choose the correct answers for major "love points", a hidden number that tracks how much the girls like you. Usually these are for agreeing with what they say or for kind answers. The okay answers give you a few points, but avoid the bad answers (unless you are eliminating people because you have already cleared them.)

A complete list of each member, their dates and all answers correct and incorrect can be found at: https://akb149084.wiki.fc2.com/ ; the bar on the left has team names which expand to member lists, then you can click on each member to see their date information.

This is important: At a point when you think your target group is close to the final date, make a backup save. This is the bottom option of your menu, the ink pot and feather pen.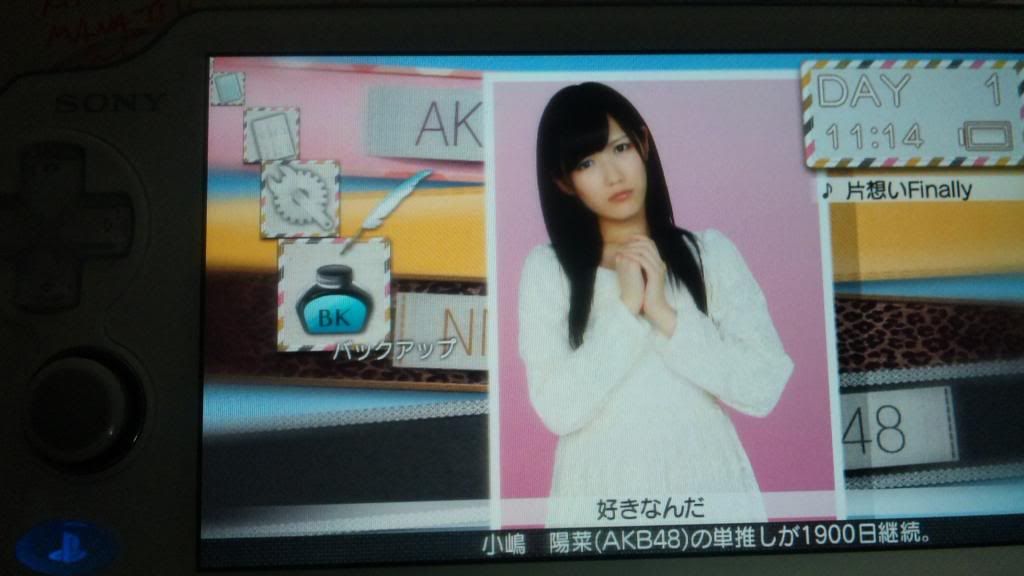 Entering this will send you to this screen: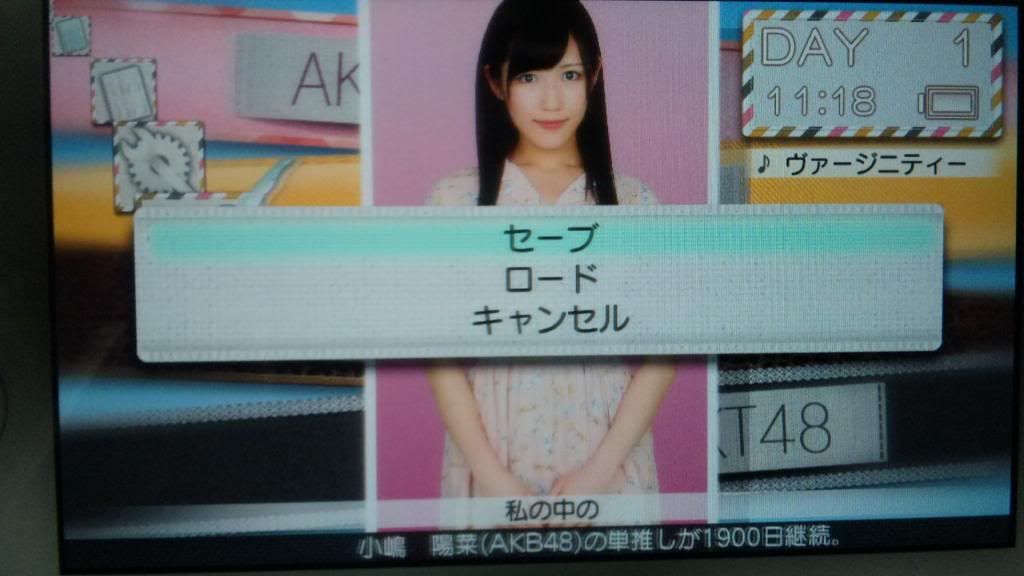 These are the options for SAVE, LOAD and CANCEL. Make a strategic save, complete the game then reload to complete the other girls.

NOTE THAT all this progress is recorded in the SYSTEM SAVE FILE, so individual saves will still work towards the trophies.

Also: When you get the option to go on the final date the next day, make a habit of choosing the "I'm busy tomorrow" option. The game sometimes has other girls call you, and if two (or even three!) of them call you, you have no choice but to date one of them. This causes an instant breakup with the girl with whom you were supposed to have gone on the final date.

Once you have 100% with one girl, it's lather-rinse-repeat for the other 148.

Fortunately the process will speed up as you go on more dates, enabling you to hold the
button to skip through dialogues you have seen before.

You can also speed up the credits by hitting the
button, or
to skip the credits entirely (thanks to MainComptonese for pointing that out).

"Microphone Day" is a special bonus date that scores big points. There are comeback events, which if you accept the girls will comeback with a high attraction level, making it quicker to complete them. There are also "I saw your date" events, which can get you big points (or cause an instant breakup) if you get asked "Who do you like, her or me?"

Suffice it to say that you need at least level 2 or 3 proficiency in Japanese in order to understand this game. However, with the trophy guide, answer key and extra saves (to reload in case you do choose the wrong answer) it is a definitely doable platinum.
[PS3T Would Like to Thank Benmahalf for this Roadmap]