This trophy is unobtainable due to server shutdown.

This trophy requires you to complete every job at every possible location when playing multiplayer. There are 6 different jobs and there are 12 different locations. Although every job can't be done on every possible location. In total you must play and complete 48 matches.

The matches have to be ranked but can be done in either Instant or Campaign. All jobs have to be completed so the word 'Victory' must be displayed at the score screen after the match have ended. Only Slime Dunk is an exception which says 'Round Over' even if you come in 1st place. If you get 'Round Over' or 'Failure' on any match besides Slime Dunk then it won't count for the trophy.

After each match you successfully completed you must wait for your statistics to update. If you don't wait for an update then the match you completed won't be counted and you have to replay it. To make sure your statistics have been updated, look at 'Multiplayer Statistics' from the multiplayer main menu and see if your data have been changed since last time.

It doesn't matter if you or someone else are knocked out when the match ends. As long as it is 'Victory' it will still count for the trophy. Also if a match is completed it doesn't matter if one or two players have quit the match before it ended.

Here are the requirements for completing each job:
Survival - All 10 waves completed.
Destruction - All 26 Evil Relics destroyed.
Containment - All 15 ghosts trapped for 2 players and all 20 ghosts trapped for 3-4 players.
Protection - All 3 PKE Disruptors filled to 100%.
Thief - At least 1 of 4 Artifacts still left in level on timeout.
Slime Dunk - Come in 1st place by having the most cash.
Use this checklist to take note on which matches you have completed: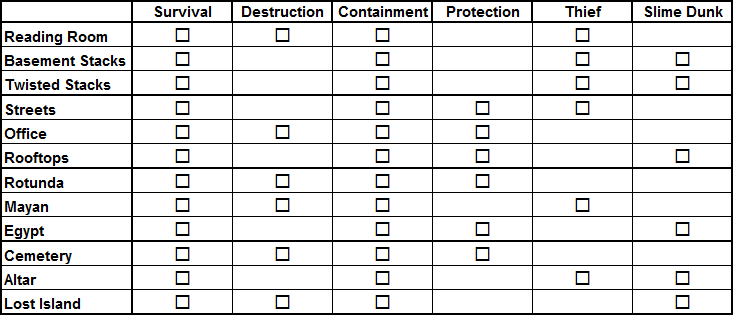 A few tips on how to complete the matches:
Survival: Both the Dark Matter Generator and Meson Collider weapons are strong against many enemies. The Shock Blast will heavily damage Golems and the Overload Pulse can hit many ghosts at the same time.
Survival & Destruction: You may have a better chance of completing these jobs if you have at least three players.
Destruction: Learn where the Evil red Relics appear. Sometimes there is a small variation sometimes but mostly they appear in the same place in the same order. You will save a lot of time if you know where to run next.
Destruction: Save the Dark Matter Generator and Meson Collider weapons for the Evil Relics to destroy them faster.
Destruction: Concentrate on the Evil Relics and ignoring the ghosts since they will disappear when the Evil Relic is destroyed. If there is a ghost that blocks an Evil Relic it's better to go to another Evil Relic nearby or use the Slime Tether to remove the ghost.
Containment: Always select the Slime Blower as your specialized weapon. Use Slime Tether to quickly trap ghosts and only pick a new Slime Gun power-up if all 5 shots have been used. Clear the area of all power-ups that isn't Slime ammo when you can.
Protection: Don't trap the ghosts, a new ghost won't arrive until another is trapped/destroyed. Each player can hold a ghost with his Capture Stream until the PKE Disruptor becomes 100%.
Protection: The last PKE Disruptor will spawn 1 or 2 Golems depending on how many people are playing. It's better to lure the Golem(s) away from the PKE Disruptor and only kill the minions.
Protection: Protection on Cemetery can be hard when you reach the last PKE Disruptor but if you freeze the Grave Monster with the Stasis Stream it will become easier. Just make sure that another player takes over the freezing while the first is refilling their ammunition. Pick the Dark Matter Generator as your specialized weapon before match begins. Clear the area of all power-ups that isn't a Dark Matter Generator when you can.
Thief: It doesn't matter if an Artifact is red colored or even if a ghost is holding it when the time runs out. It still counts in your favour.
Thief: Have at least one player that ignores capturing/destroying ghosts and that just stays near the safe zone. This player shoots ghosts that steals the Artifact until they drops it. Just make sure to keep moving since ghosts will attack after dropping the Artifact.
Thief: Using the Slime Tether on the Artifacts will make it harder for ghosts to steal it.
Slime Dunk: You will get a lot more cash if you are slamming a Slimer rather than moving the ghost into a trap.
Slime Dunk: Prioritize the yellow and blue Slimers. They will give you more cash if you slam them into the trap. Green gives you $2,000, yellow $3,000 and blue $4,000 if you only move them to the trap.